Home >> News >>
Industry News
Industry News
---
Trade Advisory - Restrictions on movement of Heavy Vehicles-Reg
September 11, 2017, Gujrat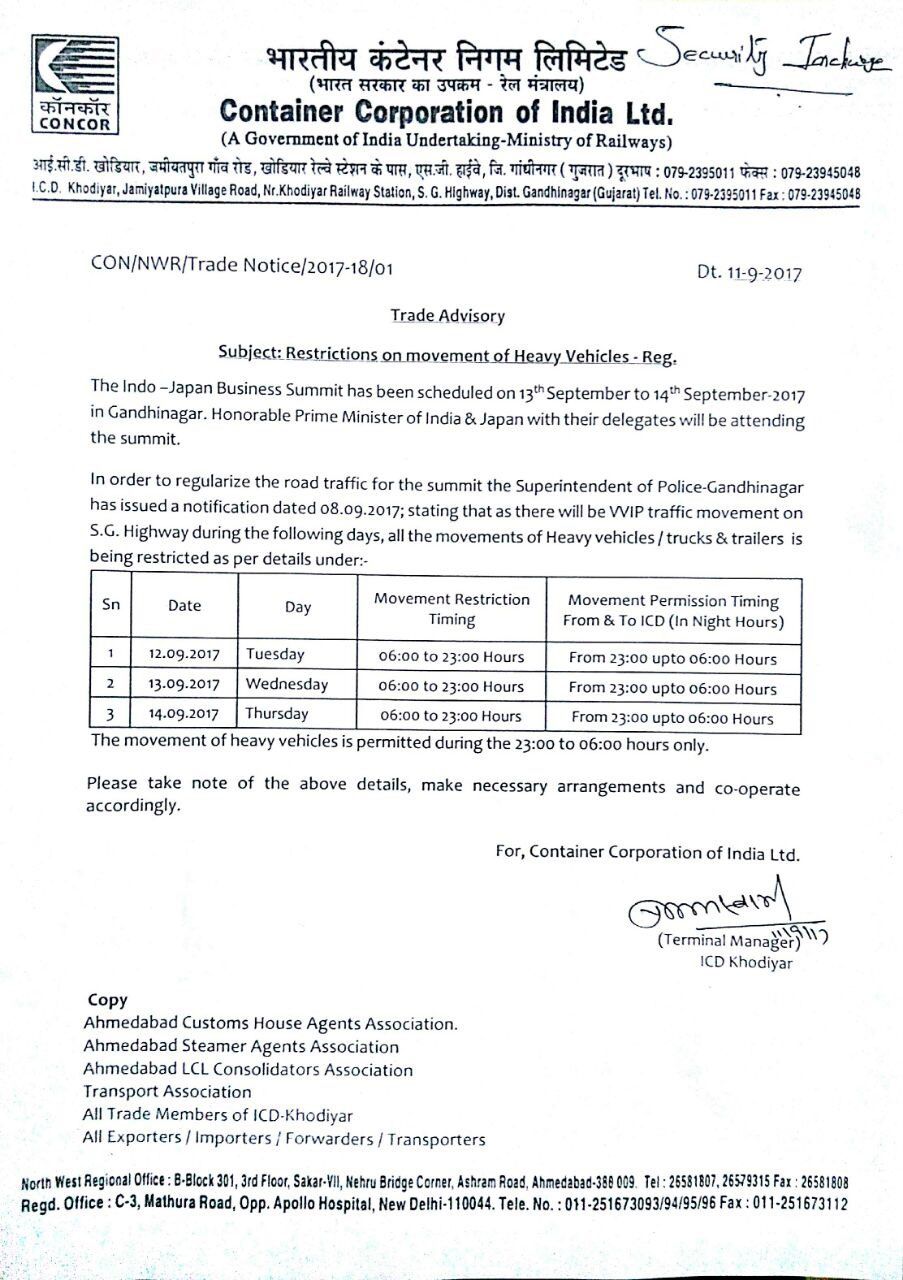 ---
Fire in the jnp port RTGC
September 8, 2017, Navi Mumbai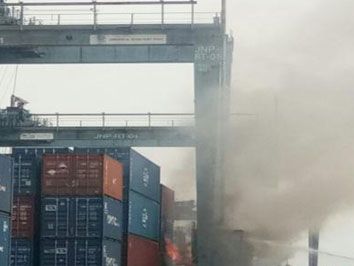 ---
In Visakhapatnam port one of the foreign cargo ship sinked at Berth
September 6, 2017, Vizag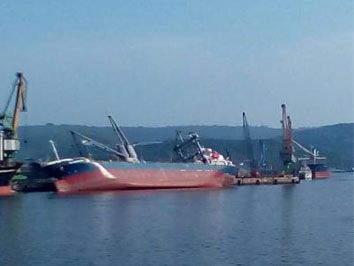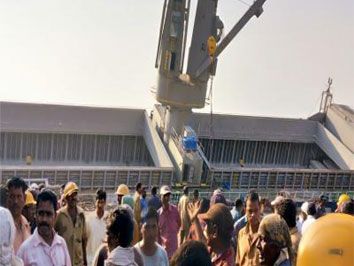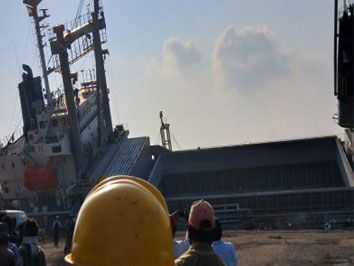 ---
G20 Summit on 7th and 8th July in Hamburg
June 29, 2017
Dear Partners,

As you may have learned from the press, the G20 summit will take place in Hamburg on July 7th and 8th 2017. This event requires special security measures for the 35 delegations by the Hamburg police. Therefore, streets and junctions within the airport area and city centre will be closed. This will lead to considerable obstructions in road and rail transport.

Furthermore, due to public assemblies also heavy traffic obstructions like closing one side of streets and/or traffic restrictions within the port are Veddeler Damm, Kohlbrandbrucke and Finkenwerder strabe (Please refer to attached traffic report of the Hamburg police) are to be expected.

Because of the mentioned traffic problems within the whole Hamburg City and port are considerable delays during loading and unloading as well as during transports by truck might be possible. We would like to ask you to take this into account when placing you order.
---
JNPT becomes First Major port to equip Radiological Detection System at all Gates
February 2, 2017, Navi Mumbai
Jawaharlal Nehru Port Trust (JNPT), India's No1 Container Port that handles more than 55% of total container traffic of all major ports, has advanced to become the first Major port to equip Radiological Detection System at all its Port gates – North, Central & South- in order to detect presence of any special nuclear material in containers passing through these gates. This system has been placed in view of detecting radiological elements in the containers passing through roads & rail gates. Installation of such devices in main areas would give an added lease of life to the major importers in the region of Aurangabad, Jalna, Wardha and others who import huge volume of scraps and raw metals to make finished goods.

With this installation, JNPT has successfully complied with the directives of the Govt of India to enable Radioactive Detection System for Port Security and has fully equipped itself to handle 100% secure in handling radioactive materials in all kinds of cargo, as per the international safety standards.

A total of 28 Vehicle Monitoring System (VMS) has been installed at various locations, from where import containers are entering, for the purpose of radiological detection in the containers carrying various unshredded scraps and metallic waste. With the help of VMS, containers can detect the presence of radiological materials through specialized detecting characteristics in the system. In addition to this, JNPT has also installed 2 LIMB monitors for pedestrian traffic. Additionally, the system uses Portable Gazettes and monitors for detecting/identifying the radioactive source.

Shri Anil Diggikar, Chairman, JNPT, said, "This step towards National security has always been our priority in enabling right technology at right place to establish not only a safe and secure ecosystem but also to provide modern services to EXIM trade."

These hi-tech detection devices will provide a passive, non-intrusive means to screen containers and pedestrians for the presence of nuclear and radioactive materials. These equipment alert security personnel by means of audio/visual alarms locally and remotely. These equipments are connected to centrally located control room to monitor and maintain the history of the events. Electronics Corporation of India Limited (ECIL) has made these equipments and handed over to JNPT for further installation to fulfill Port security and has already trained the CISF persons on this equipment and provided the operating procedures for the same to stabilize this process.
---
Road Restrictions for Heavy Vehicles for Ganesh Festival
September 1, 2016
This is to bring your kind notice that on the occasion of upcoming Ganesh Festival, Department of Home Ministry & Commissioner of Traffic (Transportation)issued a notice (Vide No. MVR-0816/Pr No.390/Pari-2) for all transporters that there will be road restrictions for vehicles carrying heavy weight and overweight cargo, cement, and trailers from dated 01.09.16 to 16.09.2016. on Mumbai-Goa National Highway.

During this time, Large number of people travel to Konkan for celebrating Ganesh Utsav. To safeguard their journey on this route, movement of vehicles carrying heavy weight and overweight cargo, and trailers are stopped as strict instruction by the Transport Minister.

Transport minister Mr. Divakar Ravte said that Maharashtra State Transport Ministry Maha Mandal has arranged many buses for smooth travelling for Konkan People for Ganesh Utsav. Thus vehicles carrying heavy weight cargo, cement on this same route will greatly affect the common people's journey for Ganesh Utsav. Keeping the same in mind the decision has been taken.

But at the same time, vehicles carrying milk, petrol, diesel, home use gas cylinder, Oxygen cylinders and vegetables/fruits etc and other most important things in life are allowed on the same route.

According to this notice, such heavy vehicles are also not allowed in this route- From Panvel to Sawantwadi, National Highway No 66 (Old NH 17). Roads connecting from Panvel to Sindhudurg (Pen, Wadkal, Nagothane, Kolad, Indrapur, Mahad, Khed, Chiplun, Sangameshwar, Rajapur, Kanakavali, Kudal, Sawantwadi).

Since the Festival starts from 05.09.2016 to 16.09.2016, Schedule for Heavy vehicle movement and restrictions on Panvel – Insuli National Highway no. 66 are as follows.

1) Movement will Stop from 01.09.2016 @ 00:01 Hours till 05.09.2015 @ 20:00 hours for vehicles carrying total gross weight above15 mts .
2) Movement will Stop from 06.09.2016/0800 hrs to 14.09.2016 from morning 08.00 Hours to night 20.00 Hours.
3) Again from dt.09.09.2016/night 20:00hrs to 12.09.2016/morning08:00hrs total transportation (above 15 ton capacity) will be close for 'Gauri Visarjan'.
4) Again from dt.15.09.2016/08:00hrs to 16.09.2016/20:00hrs total transportation (above 15 ton capacity) will be close for 'Anantha Chaturthi'.

Movement of heavy weight cargo will be stopped From 01.09.16 / 1200 hrs till 16.09.16 /2400 hrs. Hence, request you to plan all your shipments accordingly.
---
Accident at Port Hazira, Gujarat, India
July 11, 2016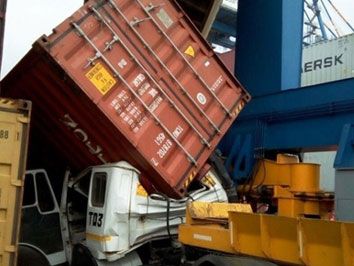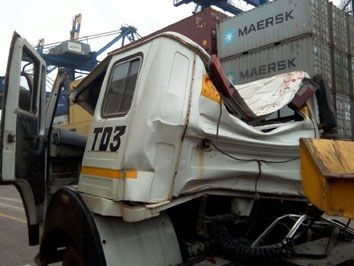 ---
Accident in Krishnapatnam Port
January 3, 2016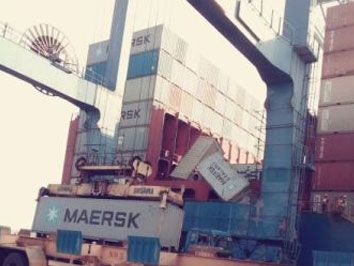 ---
Blast in Tianjin, China
August 14, 2015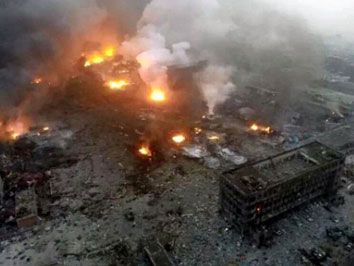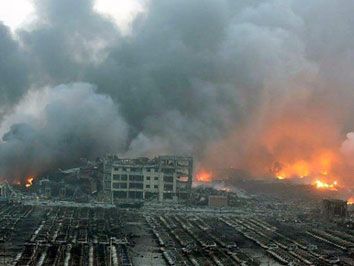 ---
UK, Kenya to spend US$30 million to widen road to decongest Mombasa port
February 10, 2015
BRITISH financial contributions towards "dualling" of the Port Reitz Road to decongest the Port of Mombasa were signed off at a recent ceremony.

Contributions to the US$30 million project were made by TradeMark East Africa (TMEA) with support from the UK through the Department for International Development (DFID) and the Government of Kenya through the National Treasury.

The project will be implemented by the Kenya National Highways Authority (KeNHA). The Port Reitz Road is crucial, as it will provide the only link to the new container terminal pending the completion of the Mombasa Southern By-pass project.

The signing ceremony was presided over by cabinet secretaries Michael Kamau (Transport) and Henry Rotich (National Treasury) and TradeMark East Africa CEO Frank Matsaert.

The agreement will see TradeMark East Africa contribute $20 million to the project, while the government through KeNHA will give $10 million of the additional costs.

Port Reitz Road will reduce truck operating costs along the transport route, to and from Kipevu West Container Terminal, also cutting time at port gates by opening Newgate 22 serving Kipevu West, accommodating 30 per cent of the traffic from the existing terminal.

The Port of Mombasa has increased traffic six per cent a year to 22.3 million tons in 2013. Container traffic grew faster on average by more than eight per cent annually to 900,000 TEU in 2013 from 438,597 TEU in 2004. The port authority expects a 1,650,000 TEU throughput this year.
---
Loss-making China-built Zambia-Tanzania railway on strike over unpaid wages
January 16, 2015
ZAMBIAN and Tanzanian railway workers have gone on strike against the Tazara Railway over non-payment of wages from a loss-making company owned 50:50 by the governments of the two countries, Reuters reports.

"The employees in both Tanzania and Zambia communicated to the authority that they would no longer wait for the promised solutions and opted to down tools," said a Tazara Railway spokesman.

Tazara has been operating at a loss and failed to meet operational costs, including expenses for locomotive spares, rolling stock, fuel and salaries, he said.

The railway links Dar es Salaam and Kapiri Mposhi in Zambia's Central Province. Built in the 1970s, the single-track US$500 million line is 1,860 kilometres (1,160 miles) long and was financed by China and was its biggest foreign-aid project for many years.

Built to eliminate Zambia's economic dependence on hated Rhodesia and South Africa, it was known as the "Uhuru [freedom] Railway" and became the symbol of pan-African socialism and defiance against white rule.

Forty years later, the Tazara line brings copper from Africa's two largest producers, the Democratic Republic of Congo and Zambia, to the Tanzanian port of Dar es Salaam. But much of the copper from both countries is also moved by road.

The railway moved 5,400 tonnes of copper in the last six months, well below a target of 41,000 tonnes. At its peak - 2004 and 2008 - it moved 120,000 tonnes every six months.

Copper imports by China increased to a record last year as a slump in prices in the second half of the year spurred demand, reported Bloomberg.

Inbound shipments to China rose 7.4 per cent to 4.83 million tonnes, according the General Administration of Customs. Imports in December were at 420,000 tonnes, unchanged from November.

London Metal Exchange copper fell 1.5 per cent after dropping below $6,000 a tonne for the first time in five years this week.
---
The Port of Lamu
January 9, 2015
A lot has been said about the port of Lamu but just how much do we know? Well here are some facts about the port;

It will form the country's second largest transport and economic corridor.

The port will impact greatly on the country's economy to an estimated 3% to the GDP by 2020.

Not only will this change Kenya and Lamu but also transform the economies of regional economies through increased trade, integration and inter-connectivity spanning growth.

The port will also be an important transhipment hub. It is expected to handle crude oil and oil products from South Sudan, Uganda and the newly discovered oil from Kenya. The oil alone will be able to impact on the lives of 166 million people in Kenya, Ethopia and South Sudan.

The port is expected to consist of 30 berths when complete,will cost US$3.5 billion and be 1000 acres in size. The port of Lamu has a natural depth of 18 metres depth and be able to receive some of the largest ships in the world.